FSI Genetics
Forensic Science International: Genetics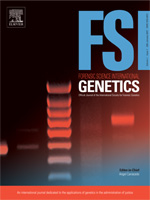 FSI: Genetics
is a new journal (editor-in-chief:
Angel Carracedo
) dedicated exclusively to the field of forensic genetics. It has been launched in 2007 by Elsevier Publishers in affiliation with the International Society of Forensic Genetics. The journal is fully indexed in Medline and in the Science Citation Index.
The 2011 impact factor is 3.082.
All members of the ISFG receive a
free subscription of this journal (print and online version)
as part of their membership benefits.
---
Please visit the
journal homepage of FSI: Genetics
for further details on the the scope of the journal, the editorial board, and the instructions for authors.
---
Journal Access for ISFG Members
All members of the ISFG have
free access to the online version of FSI Genetics
directly through the ISFG website.
If you have applied online for ISFG membership, or have already activated your online member account, you should have your login name and password ready, and you may go directly to the
Journal Access
Without login name and password, you have to activate your personal profile
Get Access
. You need your last name and your ISFG member ID. Your member ID is printed on the mailing label of the journal copy that you should receive as an ISFG member (look for "order number"). You can also request this number by sending a
message to the ISFG.ORG team
.