News
Forensic Practitioner's Guide to the Interpretation of Complex DNA Profiles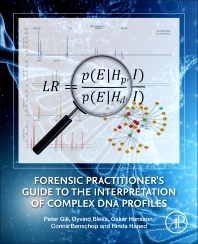 A new textbook written by
Peter Gill
and his colleagues
Øyvind Bleka, Oskar Hansson, Corina Benschop and Hinda Haned
has been published by Academic Press in June 2020. The book begins with an introduction to basic forensic genetics. The laws of statistics are described, along with the likelihood ratio based on Hardy-Weinberg equilibrium and alternative models considering sub-structuring and relatedness. The historical development of low template mixture analysis, theory and practice, is also described, so the reader has a full understanding of rationale and progression. Evaluation of evidence and statement writing is described in detail, along with common pitfalls and their avoidance.
Peter Gill has generously offered that all royalties from the book sales will be passed on the ISFG to fund educational events and fellowships for the members of our society - thank you, Peter!
You find all further details about the book and how to purchase it on the
Publisher's website.