History
The ISFG has been founded in Mainz, Germany by a group of dedicated blood group serologists in
1968
under the name of "Society for Forensic Haemogenetics" , to address the growing knowledge about polymorphic markers in human blood and their use in paternity testing as well as in forensic stain analysis. Since then, the society has grown rapidly, and has become an international society in the 1980's, carrying the acronym "ISFH". Due to the overwhelming success of DNA-based molecular genetic typing methods, the name was changed again in 1999 to include the more general term "genetics" instead of the original "haemogenetics", since DNA can be extracted from virtually all human tissues and body fluids carrying nucleated cells, resulting in the current name "ISFG".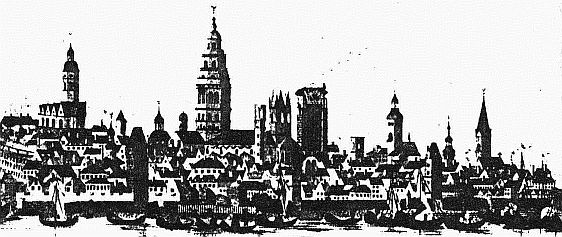 Mainz on the Rhine (historic view)
Today, the society represents more than 1,200 members from over 60 countries from academic and government laboratories, as well as from private companies. Their expertise includes molecular genetics, blood group serology, mathematics and biostatistics, as well as legal matters ranging from criminal law to medical ethics.
International congresses
are held every two years, and further meetings are organized by the mostly language-based
working groups
, to address specific topics at the local level. Since 1989, the
DNA Commission of the ISFG has published numerous recommendations
addressing important topics to help establishing scientific standards in particular for new typing methods and genetic marker systems. Thus the society has adopted a pivotal role to take up the generally accepted scientific knowledge in the field of forensic genetics and condense it into specific guidelines with the overall aim to harmonize the important work derived from the studies of genetic markers in humans for the judicial system.
---
The foundation assembly
of the German "Gesellschaft für forensische Blutgruppenkunde" (Society for Forensic Haemogenetics) took place on June 24
th
1968 at the Faculty of Medicine of the
Johannes Gutenberg University Mainz
in Germany.
The founding members were:
Dr. A. Arndt-Hanser
Dr. B. von Boros
Dr. B. Gumbel
Prof. Dr. K Hummel
Dr. H. Leithoff
Prof. Dr. K. Luff
Prof. Dr. F. Petersohn
Prof. Dr. L. Wolff
Prof. Dr. Dr. W. Zimmermann
Registration at the District Court, Mainz: July 31
st,
1968
­

–
registration no. 1006
---
In 2018, the ISFG has celebrated the 50th anniversary
of its existence, as well as the 30
th
anniversary of the
EDNAP
group. In 2019, the
Executive Board
of the ISFG has published a brochure to commemorate and celebrate the first 50 years of its existence.