Announcements
Registration for ISFG 2022 in Washington D.C.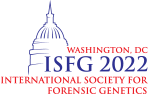 Please register for the 29th ISFG Congress in Washington D.C.:
Don't miss the educational workshops! All details can be found here:
And last but not least,
register for the Gala Dinner
at the
Ronald Reagan Building and International Trade Center
­

–
it's an "all inclusive" event:
International attendees:
In order to visit the United States of America, you may need to obtain a visa. We encourage you to contact your local Consulate or the Consular Section of your local US Embassy if you need a visa and to determine the appropriate time for the visa application process to be completed. You may request a letter of invitation to aid in this process.