Announcements
The 20th Portugaliæ Genetica: DNA - Ancient and New
21-22 March 2024 | Hybrid Event
This edition will focus on Ancient DNA and issues relevant to forensic scientists and practitioners covering the following topics: Genetics and Genomics; Mutations and Evolution; Ancestry Paradoxes; Population Genetics - uses & abuses.
The meeting will be held at I3S (Institute for Research and Innovation in Health) in Porto, Portugal, on March 21 and 22, 2024. You may also attend online.
Registrations for in-person or online format are open and the early-bird deadline is
January 22, 2024
. Call for abstracts will be open until the 8th of January.
Find out much more, including the program and confirmed speakers, on the website
here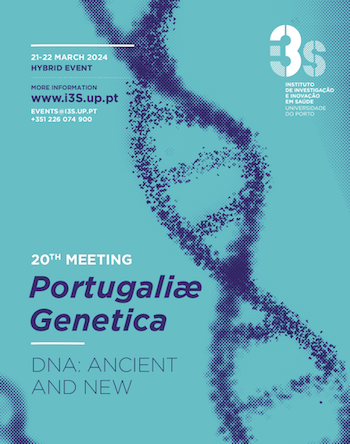 Posted 2 months and 3 days ago by
Cíntia Alves
(Last modified 8 days and 19 hours ago)