French Speaking Working Group
In memory of Peter M. Schneider (1955-2022)
Over the years, some of the FSWG had the chance to discuss or mail exchange with Professor Schneider on different matters. He has always been of good advice, open-minded and very approachable. The FSWG is grateful for Professor Schneider's work and great involvement in the forensic biology field of expertise. He remained involved until the end by still presenting himself for secretary of the group and is an example of perseverance. Thank you to Professor Schneider for his unwavering commitment.
The French Speaking Working Group (FSWG) of the ISFG consists of more than 20 laboratories from Belgium, France, Greece, Luxembourg, Morocco, Switzerland and Quebec (Canada). The group meets once a year to present and discuss the results of the collaborative exercise, to provide continuous education to the members and to share information on interesting cases and issues of concern.
Objectives of the FSWG include:
to continue the collaborative exercises,
to consider the problems related to the future accreditation of the laboratories (ISO 17025),
to exchange information about casework experience,
make recommendations for the French-speaking forensic community.
Registration of members at ISFG.ORG
To register for FSWG of the ISFG, please contact the secretary of the group, Jennifer Comte (contact information below).
Future planned meetings:
2023
: Montréal: Meeting organised by the LSJML (Laboratoire des Sciences Judiciaires) of Montréal, planned June 26-30. The results of 2023 proficiency testing organised by the LPS (Laboratoire de Police Scientifique de Marseille ) and UGF (Unité de génétique forensique de Lausanne) will be presented at the meeting.
Past Meetings:
At first, FSWG was meeting to present the proficiency test results only half a day yearly. In 2005, the group extended the meeting to 2-3 days sessions, for proficiency test results as well as for scientific presentations. This group dispense now an active scientific discussion platform to the French community. Here is a list of the meetings since 2005:
13th meeting
: Montréal (Québec, Canada), June 2005
14th meeting
: Strasbourg (France), May 2006
15th meeting
: Nantes (France), May 2007
16th meeting
: Montréal (Québec, Canada), June 26-27, 2008
17th meeting
: Liège (Belgium), May 13-14, 2009
18th meeting
: Bordeaux (France), May 20-21, 2010
19th meeting
: Marseille (France), May 25-26, 2011
20th meeting
: Montréal (Québec, Canada), June 27-29, 2012
21st meeting
: Namur (Belgium), May 29-31, 2013
22nd meeting
: Skhirat (Morocco), May 12-15, 2014
23rd meeting
: Lausanne (Switzerland), May 19-22, 2015
Professors Christophe Champod and Franco Taroni, from the School of criminal justice, University of Lausanne, provided training on DNA mixture's interpretation and trial simulations.
24th meeting
: Predore (Italy), May 31- June 3, 2016
Professors Christophe Champod and Franco Taroni animated round tables on subjects such as Population studies, Hierarchy of propositions, LR uses and Report statements.
25th meeting
: Pontoise (Paris, France), May 30 - June 2, 2017
Professors Christophe Champod and Franco Taroni animated a half a day workshop on interpretation and Report statements.
Here, you find the
recommendations of the FSWG for the French forensic biology community
.
26th meeting
: Chania (Crete, Greece), June 27-29, 2018 A half day workshop on LR (Likelihood Ratio) and interpretation given by Jennifer Comte and Dr. Vincent Castella, UGF Lausanne.
27th meeting
: Brussels (Belgium), June 4-7, 2019 A 4-day meeting with a half-day workshop on Baysien networks by Prof. Christophe Champod and Franco Taroni.
2020
: The 2020 scientific meeting of the FSWG, programmed to be held in Montréal (Québec, Canada), has been cancelled due to the COVID-19 pandemic.
28th meeting
: Luxembourg - virtual meeting, May 17-20, 2021
29th meeting
: Luxembourg - On site meeting hosted by Dr Elisabet Petkovsky, Chief department of forensic biology, LNS (Laboratoire National de Santé du Luxembourg), May 31th to June 3rd, 2022. Sandrine Durieux, from the SNPS Marseille, won the scientific award for her work "Filiation/kinship, haplotype Y, probabilistic evaluation".
{<>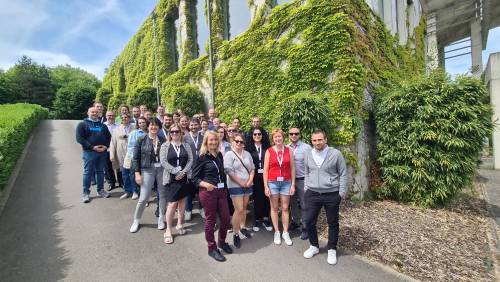 Executive Board
President
Christel Roudaut
Expert HID
TOXGEN
11 rue du commandant Cousteau
BORDEAUX 33100
France
Tel : (+33) 6 30 46 32 56
Cell : (+33) 6 37 68 22 93
roudaut@toxgen.fr
Secretary
Jennifer Comte
Spécialiste en biologie judiciaire
Direction de la Biologie/ADN
Laboratoire de sciences judiciaires et de médecine légale
1701 rue Parthenais, 12e étage
Montréal (Québec) H2K 3S7
Canada
Tel : (+1) 514-873-3301 ext : 61564
Mobile : (+1) 438-874-7984
jennifer.comte@msp.gouv.qc.ca
Treasurer
Moïse Menevret
Expert
LNS - Service Identification Génétique
Rue Louis Rech 1
Dudelange 3555
Luxembourg
Mobile : +33 6 26 46 65 35
moise.menevret@lns.etat.lu