Spanish and Portuguese Speaking Working Group
Grupo de Habla Española y Portuguesa de la ISFG / Grupo de Línguas Espanhola e Portuguesa da ISFG.
GHEP-ISFG Homepage
Contact
info@ghep-isfg.org
In memory of Peter M. Schneider (1955-2022)

Proficiency Testing
The GHEP-ISFG Proficiency Test (Basic Level) is accredited under the standard ISO/IEC 17403:2010. Participation is possible for everyone (both GHEP and non-GHEP members). This Proficiency Test is available in Spanish, Portuguese and English. A final report, available in Spanish and English, is released every year. The report includes: description of items, assigned values, anonymized individual results, methodology used, comments and recommendations from the organization, remarks and suggestions from the participants. Additional information can be found at
http://ghep-isfg.org/en/proficiency/
Upcoming activities or meetings
Information regarding the 2024 meeting of the GHEP-ISFG will be available soon.
Previous meetings
The
2023 meeting
of the Spanish and Portuguese-Speaking Working Group of the ISFG (GHEP-ISFG) was held in Cartagena de Indias, Colombia, on July 26-28, 2023.
Hosted by Beatriz Martínez and colleagues from the Instituto de Investigaciones Inmunológicas, University of Cartagena, over 90 participants were present in this event, which included various topics, namely:
- 2 Symposiums on the scientific and legal aspects of expert reports in the context of Forensic Genetics, one more oriented to geneticists and the other to magistrates;
- Two full-day workshops on the use of mitochondrial DNA in the forensic field and on forensic genetic genealogy;
- A half-day presentation/discussion of the GHEP-ISFG/INTCFM Proficiency Test (EIADN 2023);
- A mini-symposium on DVI;
- The presentation/discussion of the Advanced Theoretical Challenges (ATC 2023), and
- The GHEP-ISFG General Assembly for GHEP members only.
You may find the detailed program
here
and more details on the GHEP-ISFG
website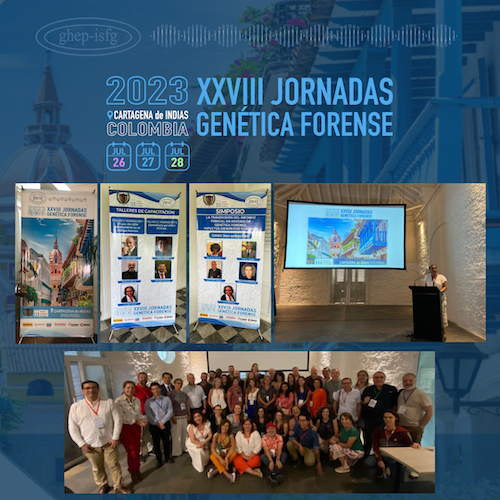 President
Leonor Gusmão
DNA Diagnostic laboratory (LDD)
State University of Rio de Janeiro (UERJ)
Rua São Francisco Xavier, 524. Maracanã
20550-900 Rio de Janeiro (RJ) Brasil
Tfno: +55 2123342183
leonorbgusmao@gmail.com
Vice President
Ulises Toscanini
PRICAI-Fundación Favaloro
Av. Belgrano, 1782 - S.S.
C1093AAS - Buenos Aires, Argentina
Tfno: +54-1143781205
Fax: +54-1143831197
utoscanini@ghep-isfg.org
Secretary GHEP-ISFG
Manuel Crespillo Márquez
Servicio de Biología. Departamento de Barcelona
Instituto Nacional de Toxicología y Ciencias Forenses (INTCF)
Ministerio de Justicia
08002 Barcelona, Spain
Tfno: +34 933174061
manuelcrespillo@ghep-isfg.org
Treasurer
Pedro A. Barrio Caballero
Servicio de Biología. Departamento de Madrid
Instituto Nacional de Toxicología y Ciencias Forenses (INTCF)
Ministerio de Justicia
C/ José Echegaray 4
E-28232 Las Rozas de Madrid, Madrid, Spain
pedrobarrio@ghep-isfg.org
Publications of the GHEP-ISFG
Complete list